Data Recovery
Overview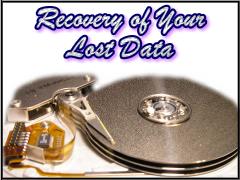 -Does your computer fail to bootup?
-Does it contain critical data?
-Don't have a recent backup?
-Reformatted your harddrive?
-Accidentally deleted files?
No matter what has caused your current data loss...PC Graphix can recover those critical data files such as digital pictures, QuickBooks & Quicken files, emails & address book, Word, Excel & Database files!
PC Graphix specializes in the recovery of data from harddrives that are experiencing software related problems. Typical software related problems can involve a corrupt operating system, a damaged file allocation table or master boot record, virus or spyware infestion, deleted files, a reformatted harddrive or even a full Windows recovery.
PC Graphix cannot recover data from harddrives that have completely failed due to a hardware related problem. You are likely experiencing a hardware related failure if you hear a grinding and/or clicking noise when you try to bootup your computer. In those situations, you have no other option than to contact a data recovery service that specializes in the recovery of data from physically failed harddrives. Unfortunately, the cost for such services generally start at around $1,000 & up but for good reason as this type of data recovery is very time consuming and difficult.
What Should I Do When My Computer Won't Bootup?
If your computer fails to bootup AND it contains "critical data", then it is crucial that you heed the following:
Backup Your Data. If you manage to get your computer booted up, immediately backup your data to an external storage device.
Make note of any error messages, unusual sounds (such as harddrive clicking or grinding), lights on the PC, at what point in the boot process does it stop, experience a lightning strike, etc.
Unusual Noises? If your computer makes a grinding or clicking sound when attempting to bootup, leave it turned off. Continued attempts to restart can lead to permanent data loss!
DO NOT reformat your harddrive as that will lead to data loss.
DO NOT attempt a Windows system recovery if you aren't sure of what you are doing. Choosing the wrong recovery option will erase your harddrive and all of its data.
CALL PC Graphix at 803.278.1425 to review your situation
How To Ship Your Harddrive
Note that Local customers can simply deliver their computer to PC Graphix by appointment only. For those that cannot deliver their computer, please follows these instructions on how to properly ship your harddrive to PC Graphix.
You must remove the harddrive from the computer.Wrap your harddrive in enough bubble wrap material that it completely fills the volume of the shipping box.

Do not use peanut packing material as it does not adequately secure your harddrive from movement during shipping.

Mark your package as fragile/glass and insure it at the value of your data.

When you ship your hardrive, be sure to request a signed delivery signature.

PC Graphix will provide you with a shipping address when you call to disucss your situation..